Tom Sellers is known for breaking conventions. He combines a refined cuisine with far-sighted thinking, having honed his skills alongside some of the world's greatest and most influential chefs, including Tom Aikens in London and at Raffles in Singapore, Thomas Keller at Per Se in New York and René Redzepi at Noma in Copenhagen—all places he had worked at before the age of 21.
Currently he is the chef-patron of Restaurant Story in London, a restaurant he had dreamed of opening since the age of 19. In April 2013, at 26, he managed to realize his dream, earning a Michelin star the same year. A second star followed in 2021.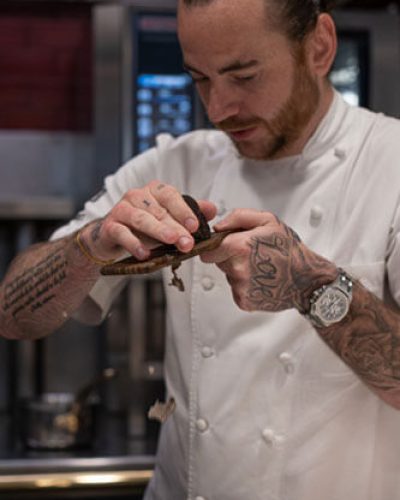 Risotto with truffle and celeriac
This dish was inspired by the period during which Tom Sellers worked for Thomas Keller at Per Se in New York, where a white truffle risotto featured on the menu. His version follows a similar method to make the risotto, using celeriac and oyster mushrooms as a base.
First, he makes a celeriac broth using the peel, then adds to the rice pureed celeriac flesh, butter and Winchester cheese, the closest English equivalent to Parmigiano Reggiano. The dish is finished with white truffle, truffle oil and softly whipped cream. The risotto has become a fixture at Restaurant Story while nonetheless continuing to evolve in subtle ways.