Marco Calenzo heads the kitchen at Al Mare, a restaurant in the Carlton Tower Jumeirah in London.
Over the course of his career, Calenzo has worked around the world, bringing his inimitable passion for cooking to numerous restaurants, from the Four Seasons hotels in Beijing and Hawaii to Les Creations de Narisawa in Tokyo and most recently to Zuma in London, where he joined as executive chef.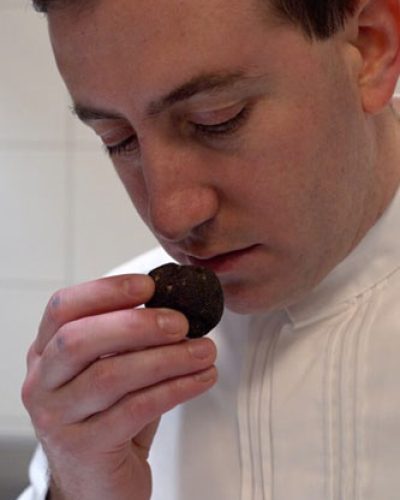 Braised veal cheeks with jerusalem artichoke and black truffle
A symphony of browns, this veal cheek braised with truffle exploits some of the oldest cooking techniques to enrich the flavors of the rich sauce and the Jerusalem artichoke puree.
The overall result offers an astounding gustatory complexity and prepares us to fully appreciate the black truffle, which becomes an essential and fully integrated element of the dish while also elevating it to new heights.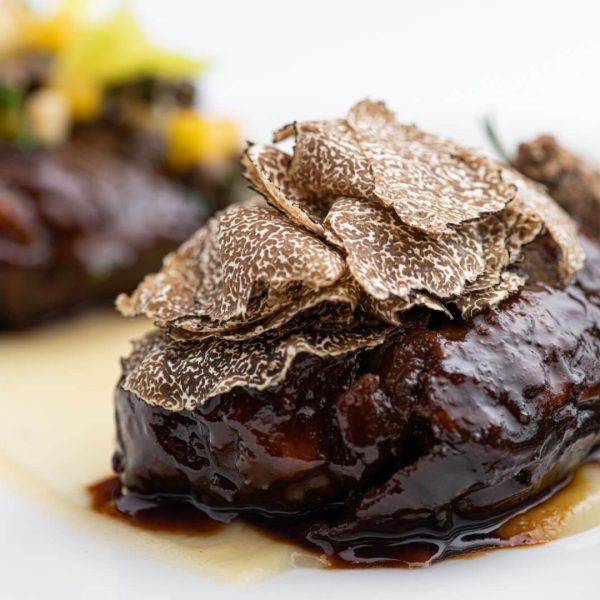 for the marinated veal cheeks:
4 veal cheeks, cleaned
olive oil
salt and black pepper
2 juniper berries
4 tsp (20 ml) grappa
3.5 oz (100 g) pine branches
1½ tbsp diced celery
1½ tbsp diced carrot
1 tbsp diced onion
1 tbsp diced leek
olive oil
1 glass of red wine
1 glass of port wine
4 cups (1 l) chicken stock
black peppercorns
1 bay leaf
½ tbsp tomato concentrate
¼ cup (50 g) reduced braised veal sauce
2 tsp (10 g) aged bonini balsamic vinegar
 3 drops truffle oil
for the jerusalem artichoke puree:
1 tbsp diced shallots
1½ tbsp (20 g) butter
7 oz (200 g) jerusalem artichoke, peeled and diced
4 tsp (20 ml) white wine
¾ cup (200 ml) milk
¾ cup (200 ml) cream
2 tsp (10 g) brown butter
½ tsp (2 g) truffle oil
salt
2 oz (50 g) swede, cut into brunoise
2 oz (50 g) jerusalem artichoke, cut into brunoise
2 oz (50 g) black truffle, cut into brunoise
2 tsp thyme leaves
1½ tbsp (20 g) filtered brown butter
1 tbsp chopped chives
1 tbsp madeira wine
salt and pepper
celery leaves
shaved black truffle
Marinate the veal cheeks overnight with all of the marinade ingredients.
Preheat the oven to 400°F (200°C or Gas Mark 6).
Remove the cheeks from the marinade, pat dry and brown on all sides in a pan with the olive oil. Remove from the pan and transfer to a colander to drain off the fat.
Put the veal cheeks in a roasting pan and bake for 10 minutes without any liquid, to give the right shape and texture to the meat.
Sauté the celery, carrot, onion and leek in a pan with olive oil until browned. Add the bay leaf, black peppercorns and tomato paste and sauté. Before it starts to stick, deglaze with the red and port wines.
Add the veal cheeks and pour over chicken stock to cover. Bring to a boil, transfer to a Staub cocotte or other Dutch oven, cover and bake in the oven for about 2 hours until tender.
Remove from the oven, take out the meat and set aside then reduce the sauce on the stove until thickened.
To make the Jerusalem artichoke puree, sweat the shallots gently in butter. Add the Jeru-salem artichokes and sauté briefly, without coloring. Add the wine and cook until evapo-rated, then cover with milk and cream and simmer until soft. Strain and blend with a little of the cooking liquid, the brown butter, truffle oil and salt to taste. Keep warm.
For the vegetable cubes, place the swede, Jerusalem artichoke and black truffle in separate vacuum bags. Season with salt, pepper, thyme and brown butter. Cook sous vide at 176°F (80°C) until tender but not soft.
When ready to serve, sauté the swede, Jerusalem artichoke and black truffle together in a small pan, deglaze with the Madeira and finish with chives.
Gently reheat the veal cheeks in a pan with the sauce and glaze well.
Spread some of the Jerusalem artichoke puree in two spots on the plate. Top each with one veal cheek. Top one cheek with the vegetable brunoise and the other with shaved truffle. Finish with celery leaf on top of the brunoise. If desired, decorate the plates with a pine branch.
Tortellini Bolognese
with Capon Broth
and White Truffle
This dish draws on classic Emilian tradition, with rich tortellini cooked and served in a fragrant capon broth. The foamy butter-broth sauce enhances the simple dish, while the little disks of mortadella, cooked with bone marrow and added at the end, intensify the traditional flavors.
The end result is the perfect autumnal base for welcoming the majestic white truffle, flattering it and giving it the respect it deserves as a true king among ingredients.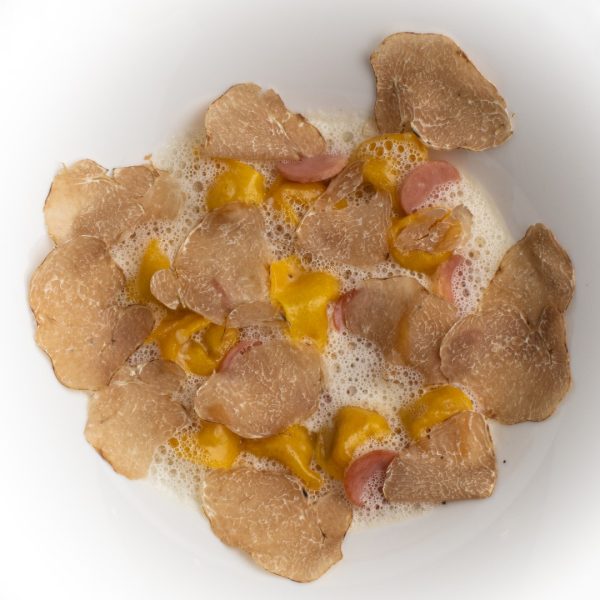 half a capon
10.5 oz (300 g) beef flank
1 lb 2 oz (500 g) beef bones
5.5 oz (150 g) onion, peeled
2.5 oz (70 g) celery
3 oz (80 g) carrot, peeled
1 sprig of parsley
1 cup (250 ml) sherry
 coarse salt to taste
1 lb 2 oz (500 g) pork belly
5.5 oz (150 g) mortadella
2 oz (50 g) prosciutto di parma
12 oz (350 g) parmigiano reggiano, grated
2 eggs
grated nutmeg
salt and pepper
fresh egg pasta dough
for the mortadella rounds:
7 oz (200 g) mortadella
0.5 oz (20 g) bone marrow
1 tsp extra-virgin olive oil
1 pinch of thyme leaves
1 knob of butter
1 tsp extra-virgin olive oil
black pepper
0.2 oz (5 g) urbani white truffle
First make the broth. Fill a large pot with 1 gallon (5 l) cold water. Add the capon, beef flank, bones, onion, celery, carrot and parsley. Bring to a boil, add the sherry, cover and let simmer for approximately 3 hours on a low heat, using a skimmer to remove any froth that forms on the surface. Add a small pinch of coarse salt halfway through the cooking time. At the end of the cooking time, strain the broth with a fine sieve and adjust the salt if necessary.
Meanwhile, make the filling. Pass the pork belly, mortadella and prosciutto through a mincer twice. Mix in a bowl with the Parmigiano, eggs and nutmeg and adjust the salt and pepper to taste.
Roll out the fresh egg pasta dough and use 0.5 oz (12 g) of filling to form tortellini, closing them in the traditional way. Set aside.
Make the mortadella rounds: Cut the mortadella into 1/5-inch (0.5-cm) slices then use a 4/5-inch (2-cm) round cutter to cut into small disks. Melt the bone marrow, add all the ingredients to a vacuum bag and seal. Cook sous vide for 14 minutes at 176°F (80°C). Cool in ice water.
When ready to serve, reheat ½ cup (100 ml) stock in a small pot, then use a hand blender to whip in the butter, extra-virgin olive oil and black pepper, making it frothy.
Reheat the mortadella rounds in a water bath for 2 minutes at 176°F (80°C).
To serve one portion, bring 4 cups (1 liter) of capon broth to a boil and cook 3.5 oz (100 g) of tortellini in the broth. Drain and transfer to a serving plate. Top with 5 mortadella rounds. Pour over the frothy broth and shave fresh truffle over the top.