Tom Aikens is one of the greatest English chefs of his generations. Born in 1970 in Norwich, he earned his first Michelin star aged just 26. A student of Pierre Koffman and Richard Neat, he worked with Joël Robuchon in France, then on returning to London led Le Pied à Terre to its second Michelin star.
A succession of awards, stars and other recognitions followed, leading him to build his own international restaurant empire. He has published several cookbooks and made many television appearances, serving as a judge on popular cooking programs. Currently he is at Muse, which he opened just before the pandemic.
Despite this challenge it already received its first Michelin star in 2021.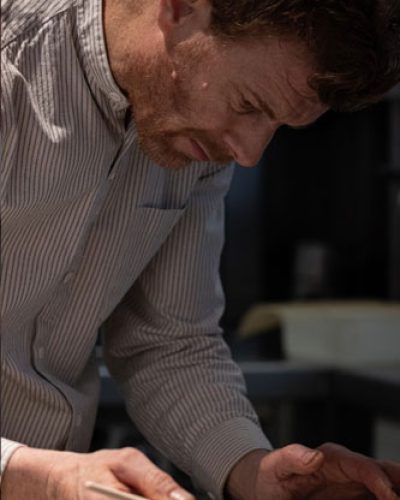 This truffle tart, which Tom Aikens associates with Joël Robuchon, is one of the best dishes that he has ever eaten to date. It is both deeply luxurious and deceptively simple, requiring a lengthy preparation and very precise execution, but the final taste is extraordinary, offering an explosion of flavors in the mouth that catapults the diner out of this world.
A timeless classic, in its apparent simplicity it resembles an artwork by Monet or Picasso, to be admired with incredulous wonder.